HISTORY OF THE RACE & THE CORACLE
Richard Bayliss and the Coracle World Championships
The fact that we have a Coracle Race at all is largely down to Richard Bayliss, from Minsterley, a village a few miles outside Shrewsbury.
It was typical of Richard, with his sense of fun closely coupled to his generosity and determination to help others, that he persuaded a collection of Shrewsbury companies to paddle unstable crafts across the River Severn back in 2007.
Deciding that this was a unique event, the Coracle World Championships, for that is what they are, were born with the intention of a fun day out of the office and nice fat cheque for Macmillan Cancer Support. To date this event has raised over £350,000 for Macmillan in Shropshire, with countless competitors paddling, capsizing and drifting to glory to uphold the ideals that Richard set in place.
Sadly Richard himself died of cancer in 2015, cruelly cut down by the disease he fought against, but leaving us to continue the fight, to continue to support Macmillan and give people affected by cancer the best chance and standard of care possible.
Thank you for your support: in memory of Richard we will be awarding the Richard Bayliss Cup, which will be presented to the team who raises the most sponsorship from the year's event.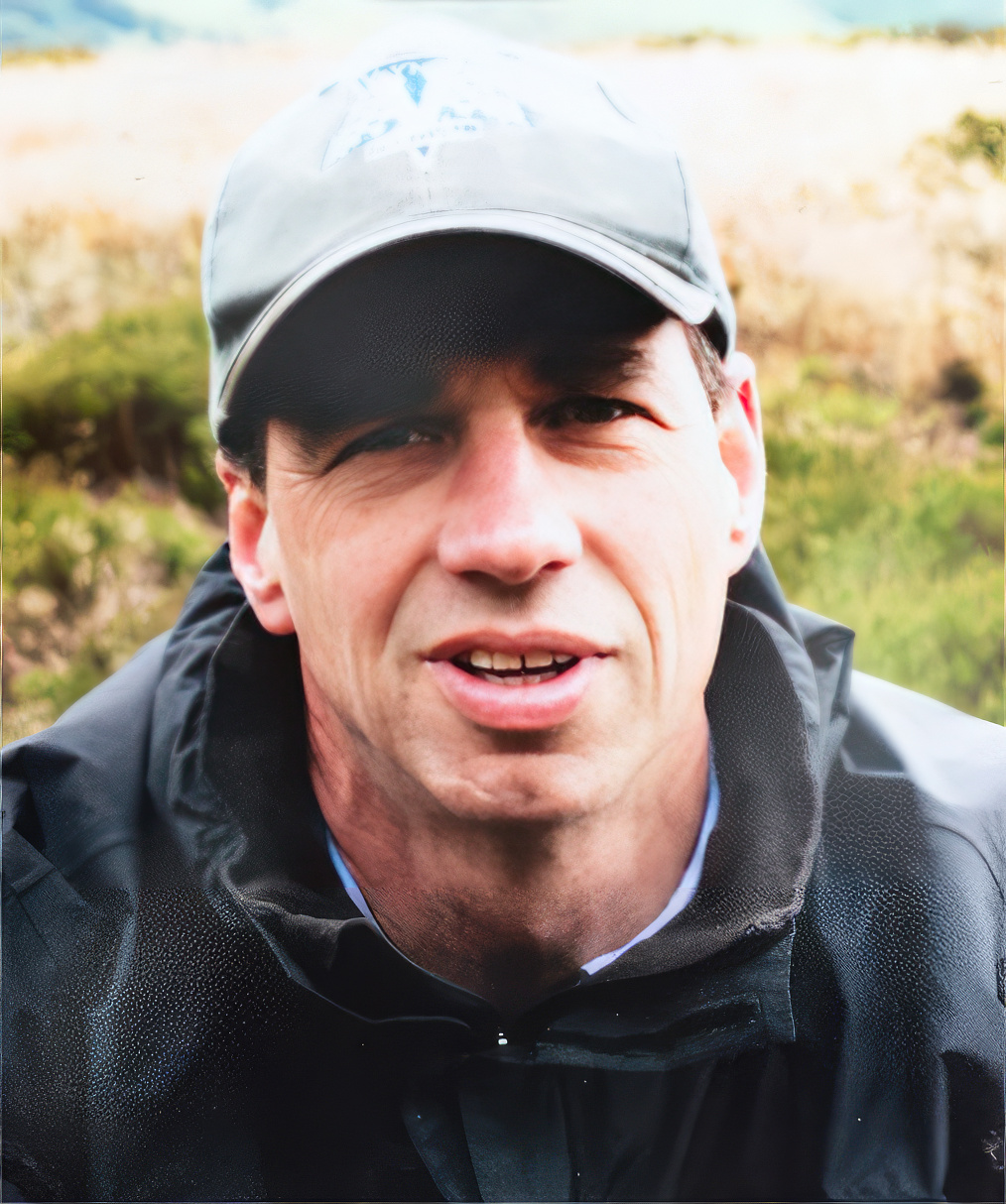 Race Fundraising Totals
We do not have complete data for all years, and in some years the Event was not held.
EVENT Final Fundraising Totals
2014 - Winners: Team Williams
2015 - Winners: McMillan Masonry
2016 - Winners: McMillan Masonry
2017 - Winners: McMillan Masonry
2018 - Winners: McMillan Masonry
2019 - Winners: Bevan Bodgers
2022 - Winners: Bevan Bodgers
---
Highest Team Fundraising Total
---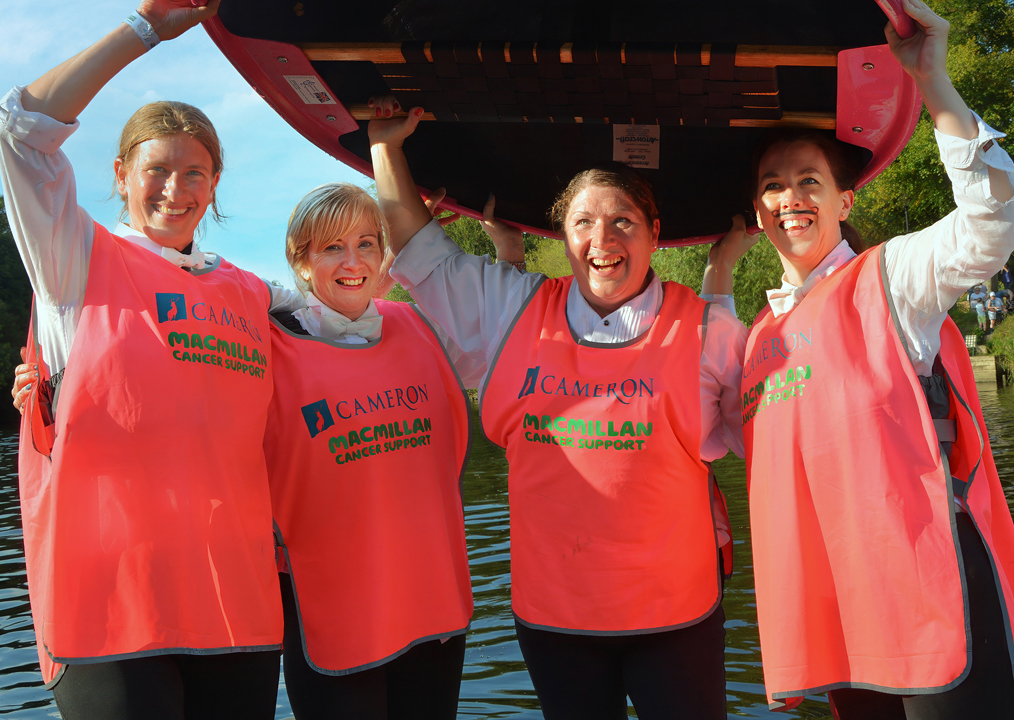 World Records smashed!
Competition in the race is fierce and reaching legendary status, with the Bevan Bodgers (Rupert Bevan Ltd Ludlow) smashing their own World Record set in 2019, with a time of 4mins 35secs in 2022. Try and beat that?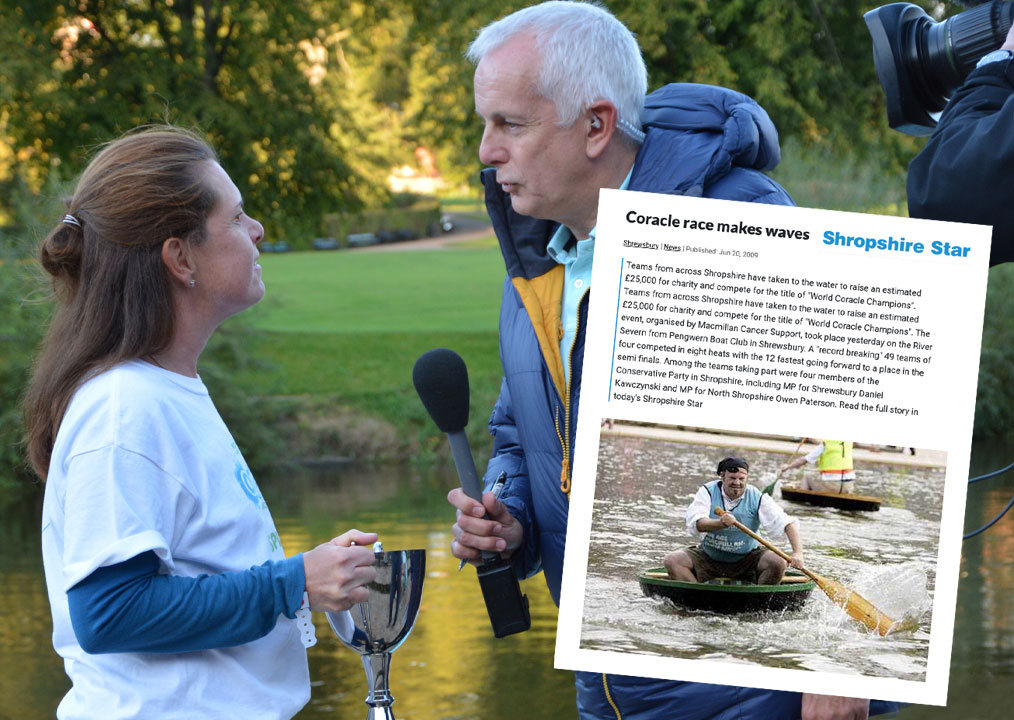 Making news and headlines!
With frequent TV, radio and press coverage, the Coracle World Championships is really well known, and why local businesses support it year on year. Why not get your enterprise noticed, and enter a team this year?
The Coracle Committee and the Macmillan Volunteers
Behind the scenes of the Coracle World Championships Race is the small, but dedicated, team of the Coracle Committee who organise all aspects of the event. Another essential part of Race Day itself are the selfless Macmillan volunteers who, at every race, provide invaluable help in making the day run smoothly!
What is a Coracle?
The coracle is a small, roundish shaped, lightweight boat of the sort traditionally used in Wales but also in parts of Western and South West England, Ireland (particularly the River Boyne), and Scotland (particularly the River Spey); the word is also used of similar boats found in India, Vietnam, Iraq and Tibet.
The word "coracle" comes from the Welsh 'cwrwgl', cognate with Irish and Scottish Gaelic currach, and is recorded in English as early as the sixteenth century. Other historical English spellings include corougle, corracle, curricle and coracle.